Ideally, the aim of an International Kindergarten & Bilingual English or French Nursery is to introduce or prepare your child for real school settings as it sets the stage for the rest of your child's education.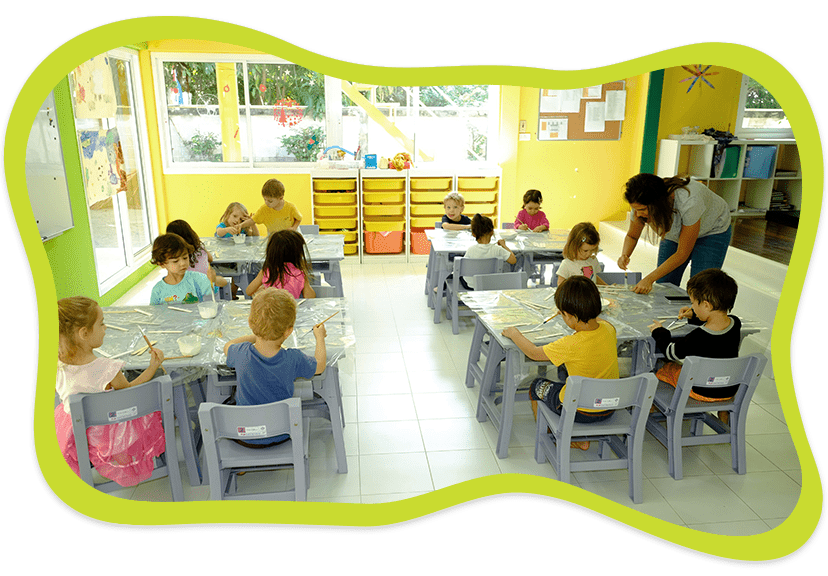 Reason for an International Kindergarten?
The first thing to do is consider the purpose of a good kindergarten and French nursery program. Why do most kids attend, despite the fact it is optional in some countries? Allowing your kids attend kindergarten provides them with several opportunities to learn and practice the basic social, emotional, study and problem-solving skills they will use all through their education.
It helps your child build self-esteem: One of the aims of Kindergarten is to help your children feel good about themselves and develop confidence in their ability to face challenges while learning.
Develop team work: Kindergarten allows your child develop the ability to work, learn and cooperate with others. Your child will be taught how to be patient, take turns, share, and listen carefully to others within a year in kindergarten.

 

Your child will make use of these skills all through his or her education and beyond. All these skills are important because your child will make use of them all through his or her education and beyond.
Ignite and direct your child's curiosity: Naturally, most children are curious, and some of them don't know how to use or focus their curiosity. With Kindergarten, your child will learn how to ignite or direct his/her curiosity and natural love to learn.
Importance of a Bilingual English and French Nursery
One of the best gifts you can offer your child is allowing them learn a foreign language. Learning a new language is very easy for young children, they have the innate ability to learn different languages at the same time without difficulties.  While in adults, they may struggle with language acquisition. Not only is it easy for children to process new languages, they can also acquire the native pronunciations of these languages naturally.
Different studies have revealed several additional benefits associated with allowing a child learn a new language at a younger age beyond the acquisition of the language itself. Children who speak more than one language have demonstrated an increased ability to solve problems, enhanced memory, better abstract-thinking capability, and many more. Giving children the opportunity to experience the environment of a foreign language also expands their multi-cultural awareness, kindles their curiosity about different parts of the world, and encourage them to appreciate and understand different perceptions.
Some students who had no previous exposure to French language at Centre Acacia International Kindergarten and Bilingual Nursery were able to learn French or English languages fluently. The program of Centre Acacia isn't an just an immersion experience, instead, it allows for French language to blend seamlessly into activities all throughout the day and switched with English on other days. With this approach, children were able to learn the language naturally. Lots of academics, educators and scientist have studied the importance of exposing children to bilingual environments in their early childhood.
You will find recent research on the subject in the following articles.
What Does an Ideal International Kindergarten and French Nursery Look Like?
You will get different descriptions of an ideal kindergarten if you should ask a number of educators and parents. However, according to certain basic agreements among educators, a good kindergarten program should:
Broaden your child's ability to learn about the world, organize information and handle tasks. This enhances your child's self-esteem and confidence, ability to work in a team, and interest in challenging situations.
Offer a combination of teacher-initiated (formal) and child-initiated (informal) activities. Investigation and project allows your child work independently and also cooperatively.
Decrease the use of large group activities that call for sitting. Rather, lots of activities feature play-based, and hands-on learning in small groups. As the year goes by, large group activities takes longer time in preparation for first grade.
Encourage a love of books, reading and writing. These includes books, words, and written works of kids all over the classroom.
The teacher is a key element in an International Kindergarten & English/French Bilingual Nursery. "In a high-quality program, adults are developing relationships with kids and paying close attention to how they think, and by extension, how they communicate. Adults are seeking ways to make the children think out loud." A skilled teacher has the ability to weave in to their language using pre-literacy and pre-math concepts.
Teachers can offer a child several complex and interactive language. They can help develop a child's social and emotional skills, some vital lessons children need to master.  The ability to communicate and express yourself is just as important as learning or developing a skill. Play is also an important learning process in all great preschools. Play is vital to development because it can affect the physical, cognitive, social and emotional well-being of a child. A child can easily learn, interact, discover and engage with their environment when they play. Games and the community of the classroom can be used to discover confidence and resilience. 
A child can develop pre literacy skills from storytelling, and also develop passion for science while playing in the sandbox with water and spatula. Exploring and checking things out for your kids is a key and integral part to know what your child should be doing every day in preschool. Sometimes, it is difficult for adults to appreciate the delicate and nuanced learning process that takes place in preschool.
To learn more about Centre Acacia's program visit our Admissions and My Life at School sections.